Wedding CDs in four Page Printed Card Digipaks
The four page digipaks allow extra artwork space for directions, timings, thanks or playlists and as well as being more rigid due to the clear disc tray, they also fit into standard CD racks or holders. They can either come with our retro-looking vinyl-style CDs that resemble mini records or can come with standard silver CDs will labels that cover the top surface of the disc.  The record-style CDs have ridges and grooves just like a real vinyl record and are available in colours that include black, gold, silver, white, purple, red, green and orange (see base of page for pictures of disc colours).
CDs in four page printed card digipaks
Select a vinyl CD in any of our eight colours (see below for pictures of different colours) or a standard silver CD, it will then come with full colour printing of your artwork on the disc label and will be packed in our 4 page digipaks with a clear disc tray, with delivery included to a single UK address.
Turnaround time: about 5-6 working days from receipt of artwork (and audio contents if being added)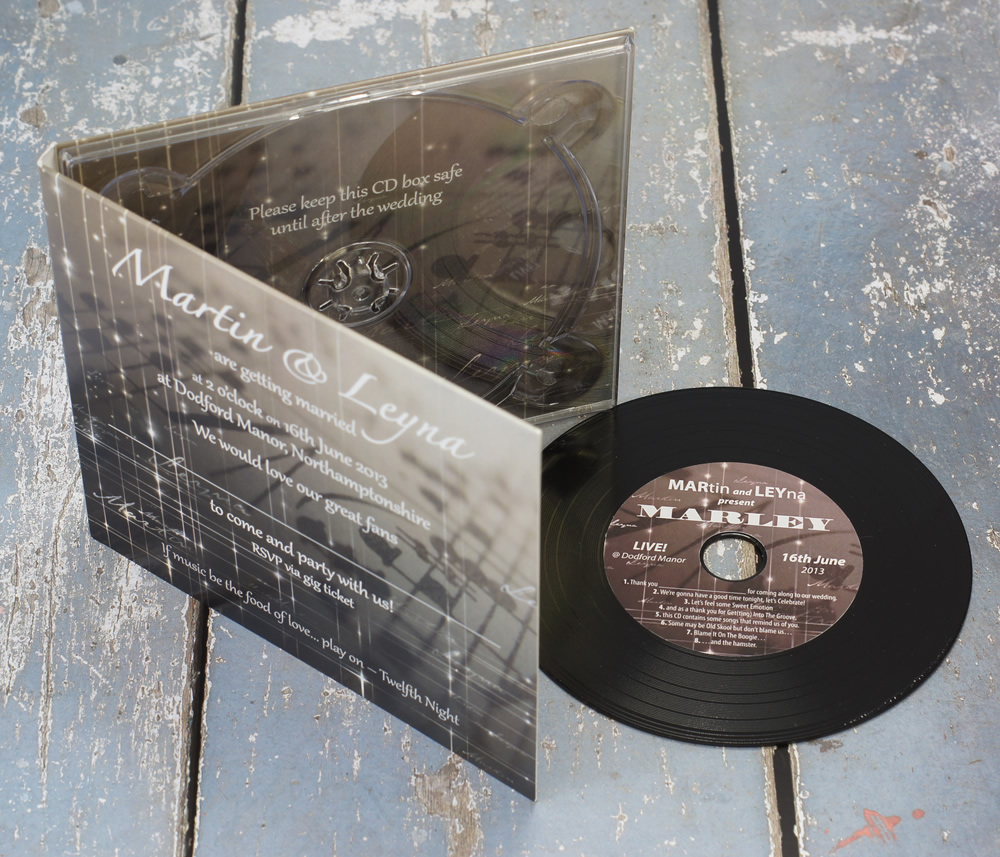 | Quantity | Price per copy with audio contents added | Price per copy left blank for you to burn |
| --- | --- | --- |
| 25 | £4.69+VAT | £4.49+VAT |
| 50 | £3.49+VAT | £3.29+VAT |
| 100 | £2.79+VAT | £2.69+VAT |
| 200 | £2.39+VAT | £2.29+VAT |
Extras:
Add cellophane wrapping for £0.08+VAT per copy
---
Adding copyright audio content to your wedding favour CDs and wedding invitation CDs
If you wish to add copyright tracks from any artist including the latest chart music, 60's or 80's hits to your wedding CDs for your guests then you can legally do so with a Limited Manufacture (LM) licence, Click here for more……..